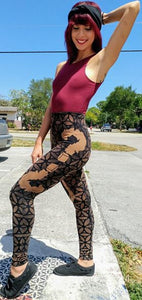 Introducing our Tipper of Life Leggings!!!!
These highwaisted leggings are handcrafted to feature Tipper's Question mark reflecting against each other paired with a flower of life pattern running throughout the rest of the legging!
These legging are handcrafted with precision bleach work, along with handcrafted stencils, and tons of love and energy poured into designing each legging!
Due to the hand designed nature, no two leggings, although similar, will be exactly the same. Meaning you'll always get a one of a kind clothing item!!!
These leggings are made of 95% cotton/5% spandex! For all those fire performers out!
Size Guide:
Extra Small: waist 24-25 inches // hips 33-34 inches
Small: waist 26-27 inches // hips 35-36
Medium: waist: 28-29 inches // hips 38-40 inches
Large: waist: 30-31 inches // hips: 42-44
Extra Large: 32-33 inches // hips: 46-48